Hello Korvia EPIK teachers!
EPIK has officially announced (29th September 2021) the procedures they will conduct on how to book an interview with EPIK.
The interview will be conducted through the
Zoom platform
.
It is very important for your successful EPIK application.
Please read the guidline carefully.
After the Korvia EPIK team recommends your application, EPIK will decide teacher who will conduct an EPIK job interview. EPIK will send an interview invitation email from
epik.interview@gmail.com
thus, please add this email to your address book to avoid spam folder issues.
[EPIK Interview Arrangement Guideline]
- EPIK will send you an invitation email, and they are going to use the primary email address on the EPIK application form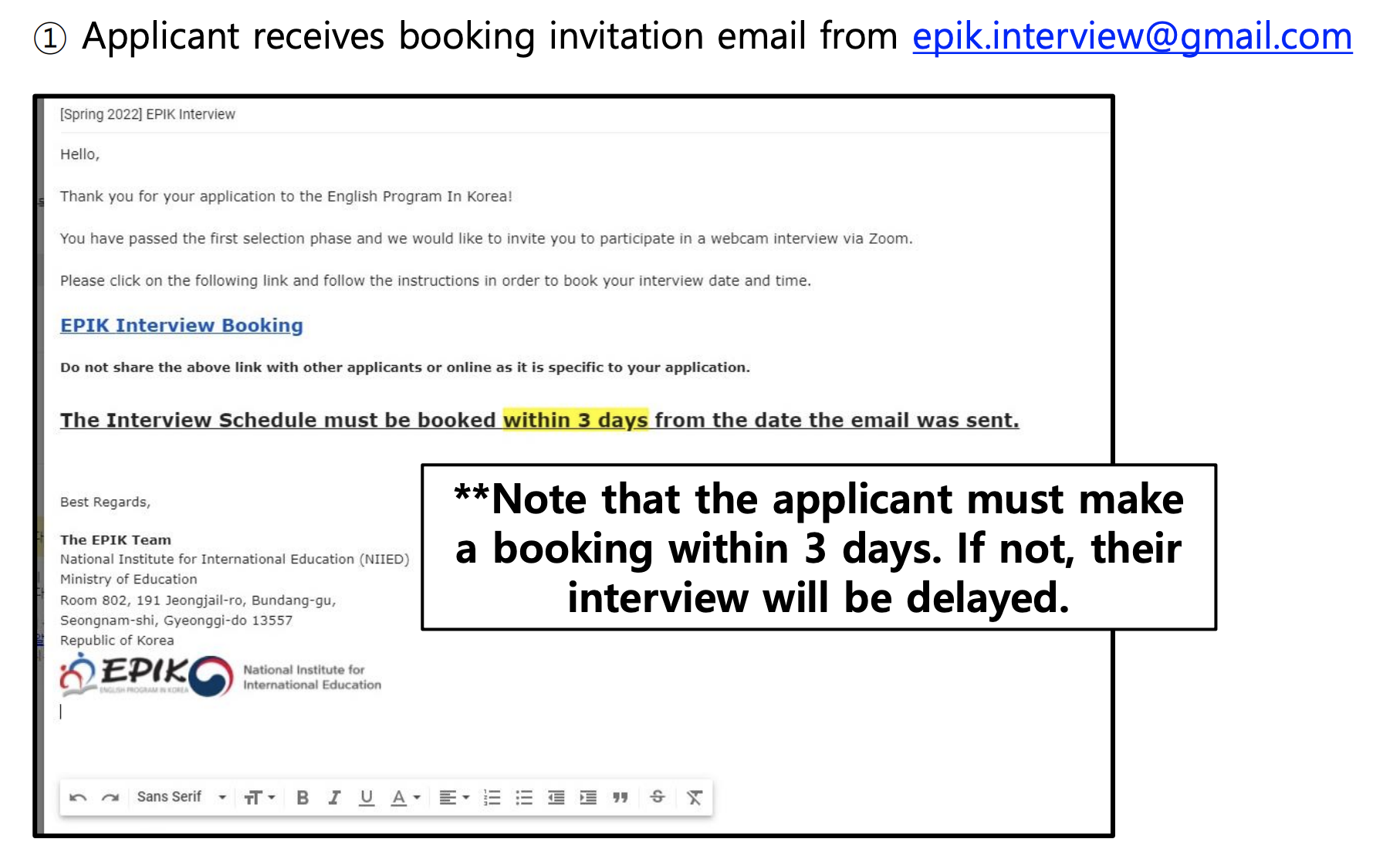 STEP 2. Click the link and select a schedule
- Check your email from EPIK and click "EPIK interview booking," and select a schedule

- Please choose only one available time

-
If the applicant selects multiple dates and times, a penalty will be applied.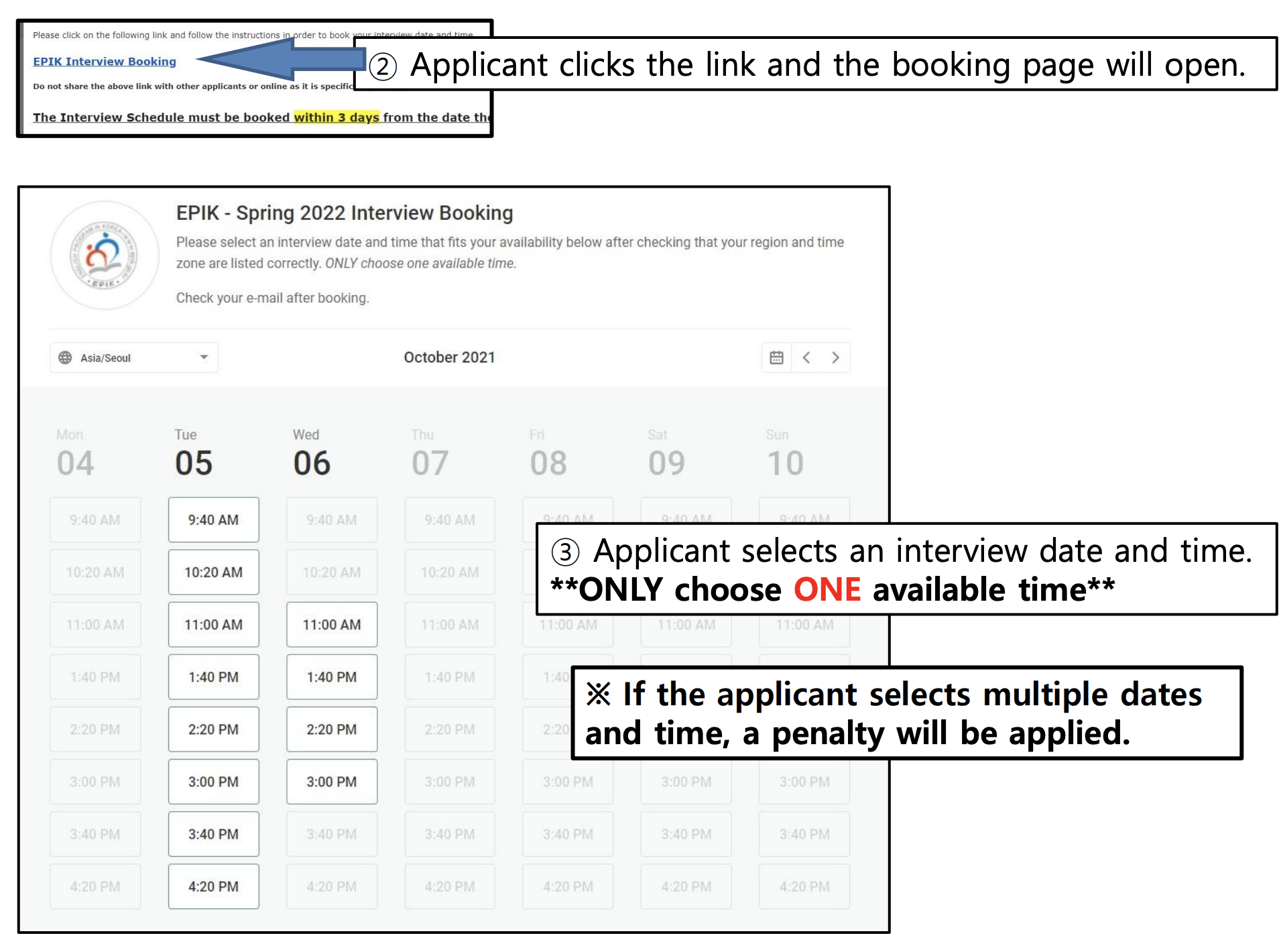 STEP 3. After selecting a schedule, you must fill out the form
- Enter Agency/MOU Code :

K01-###




Korvia EPIK Team will let you know your application number.

K01 is Korvia's Agency Number.

- Enter First & Last Name
- Enter Primary email and phone number

- Then select the "Request Booking" Button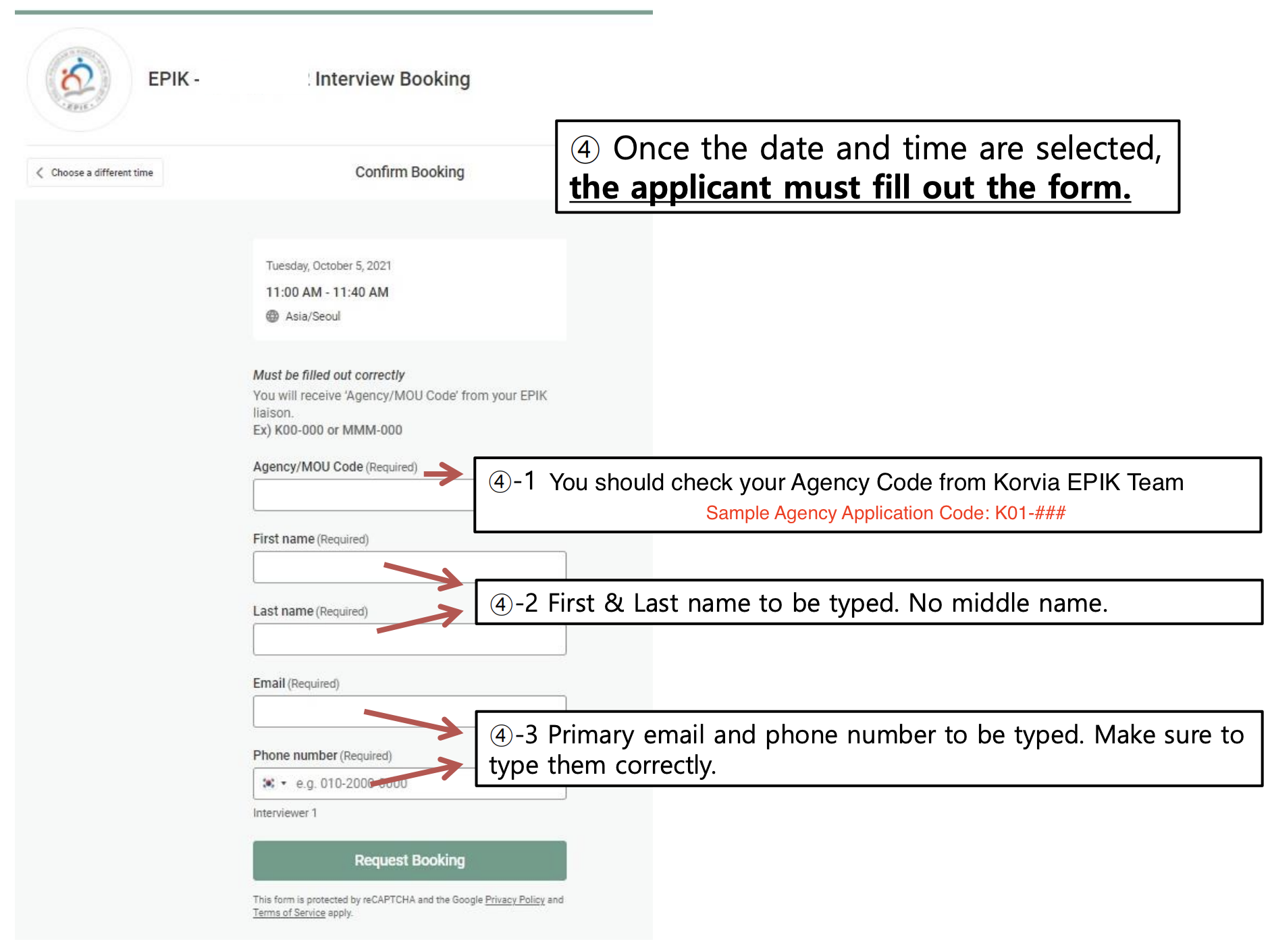 STEP 4. Check your schedule confirmation and add the calendar schedule
- After clicking the "Request Booking" button, you can find out the confirmed schedule.

- Add the schedule with your digital calendar to save the schedule.

- EPIK will confirm your schedule then send another confirmation.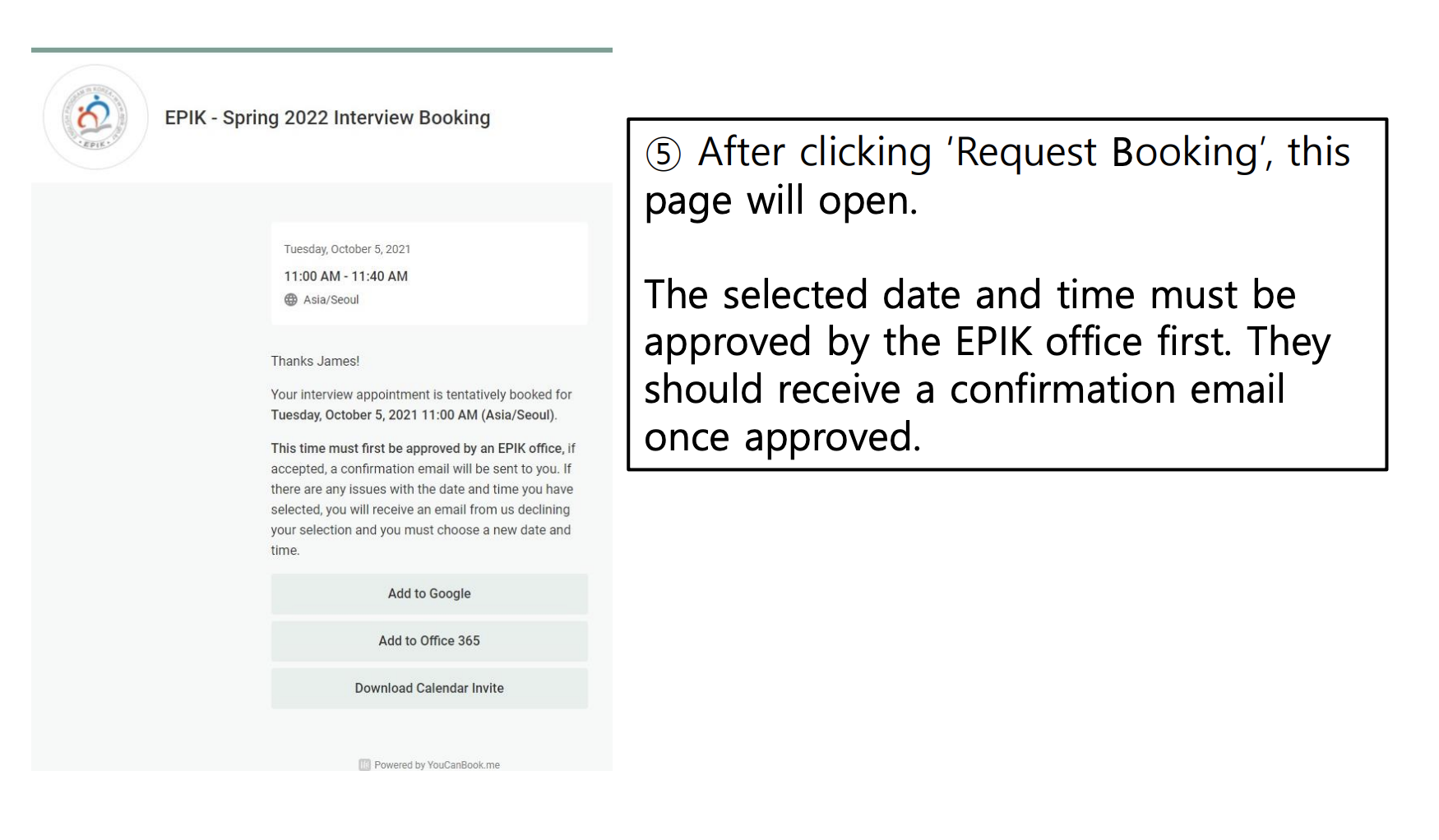 STEP 5. Check your EPIK Schedule confirmation email
- After EPIK approval, you will receive a confirmation email

- You must save this email for
the zoom interview URL.
- You can reschedule or cancel this booking; however,
we strongly recommend you keep your schedule unless you have an emergency for a better interview result.
-
Reschedule or Cancel the interview will cause a significant delay on your EPIK interview schedule.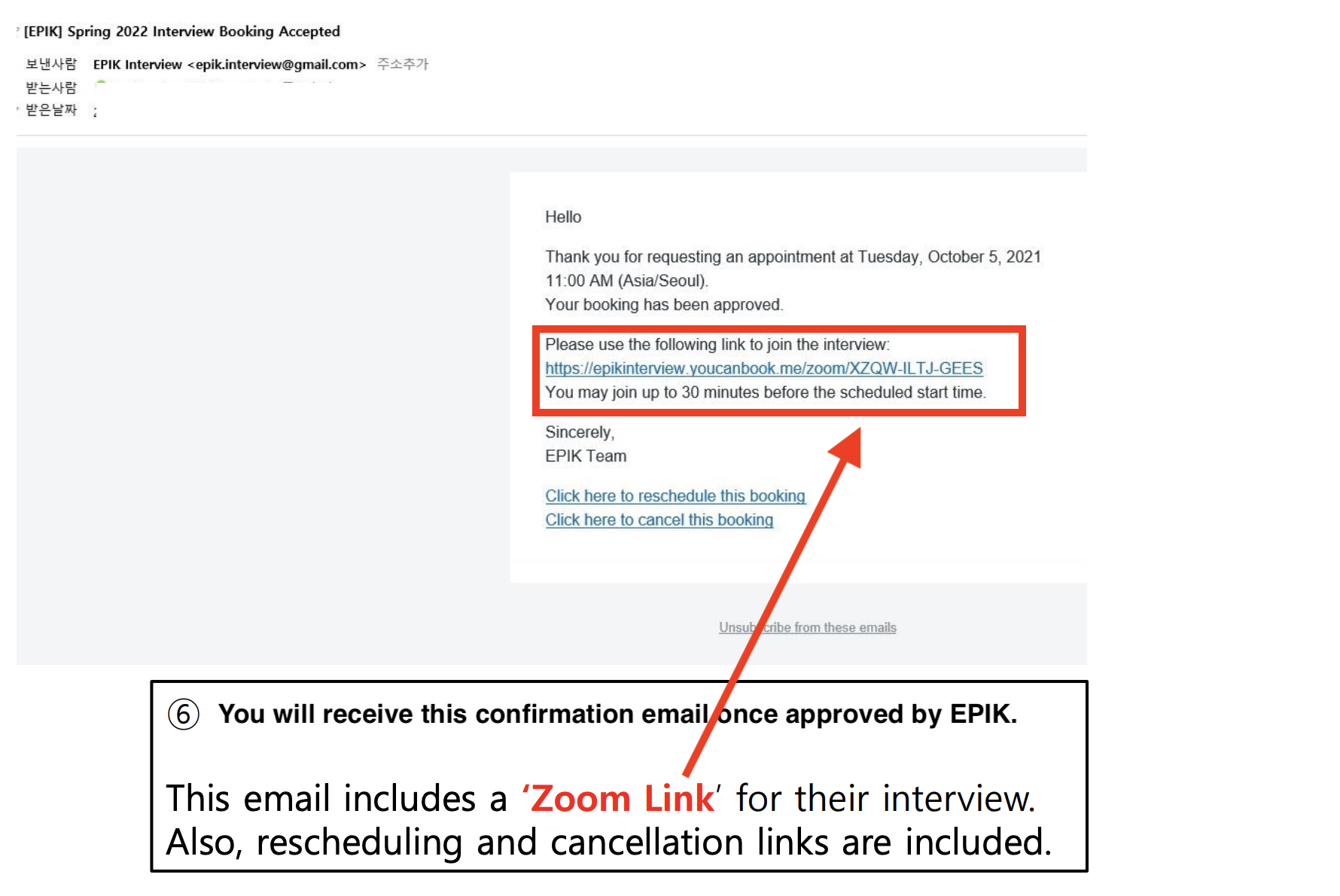 Note: Emails are sent out on EPIKs timing, so please be patient if you have not heard from them.

If you have any further questions, please feel free to email us at epik@korvia.com