[NEW] Q-Code System of Quarantine information and its use
From March 21, 2022, Quarantine Exemption will be applied to those who have completed vaccination in Korea or registered overseas (outside of Korea) vaccination history at the Korean public health center. (Excluding Pakistan, Uzbekistan, Ukraine and Myanmar). Anyone who inputs normal quarantine information through Q-code will be able to avail fast and convenient quarantine inspection after arrive in Korea. Here is the Guide of how to put information for Q-Code system.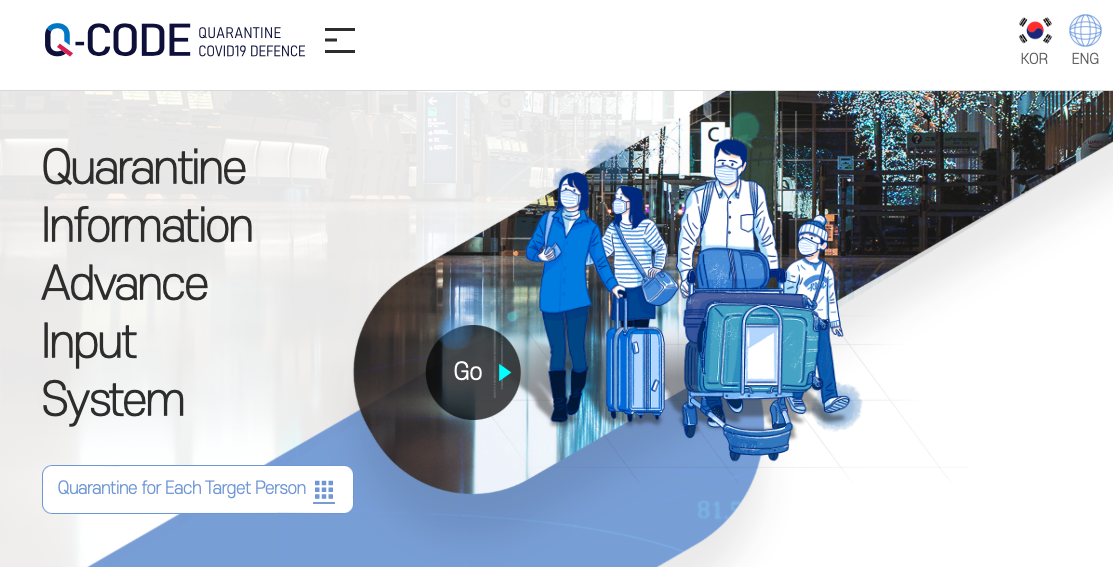 Target Persons for Input of Q-Code: Every person who plans to enter the Republic of Korea regardless of their purpose, such as tourism, Visiting family, etc. (Both Korean nationals and foreign nationals are included)

Preparation to Input Q-Code


(Mandatory) Valid Passport

(Mandatory) Valid E-mail address

(Mandatory) Valid Airline Ticket

(Mandatory) Valid "Confirmation of Covid-19 PCR Negative Test result" within 48 hours.

(Selective) Valid "Certificate of Covid-19 vaccination"

(Mandatory) Health Condition Information


Registration Procedure by STEP

You need to access Q-Code and start to submit information before boarding. Once you submit all the Information correctly, your QR-Code will be issued.

You can present your QR-Code (both printed on paper or captured with electronic device) to quarantine officer at the airport. Then you can receive quick quarantine services.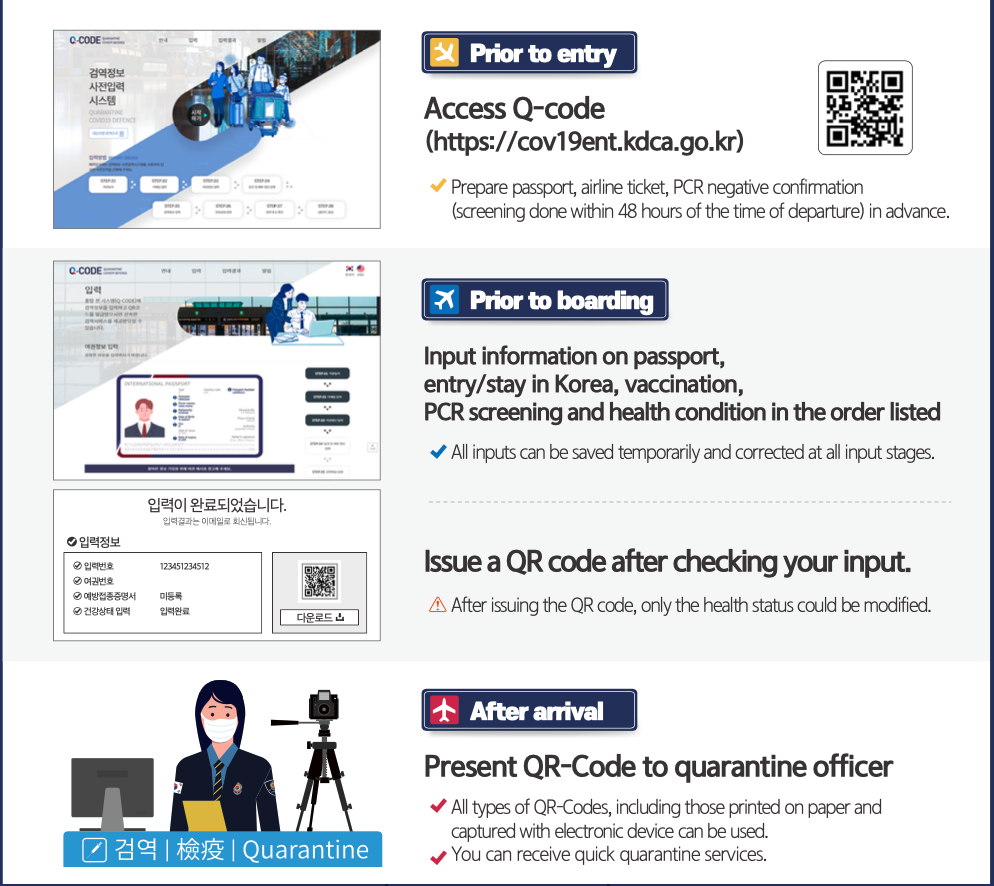 Related Articles

Summarize latest entrance policy & how to enter China | August 2020

Foreign nationals have been suspended from entering into China since the border lockdown from 27th March 2020. Good news is that policy has changed, and foreigners who meet the relevant visa requirements are able to apply for visas and come to China ...

[Covid-19] Instructions for Quarantine Subject

Greetings from Korvia! Thank you for your hard work and dedication you have done thus far. Under this international tragedy, You made this possible and now finally coming to Korea! I am sure there are lots of questions that you have regarding the ...

I am applying visa at nearest Korean consulate and I need an address in Korea

When applying for your visa, you may be asked to include a Korean address and phone number on the visa application form. If requested to do so, you must list your Office of Education's address and phone number as listed below. Please do not use ...

[Korvia Guide] Working In Korea

Your Journey has begun! We appreciate your hard work to make it till here. We would like to try our best Not only for the process for you to get here but also support your successful settlement in Korea as well. I understand this is not only for the ...

Can I get a FBI background check while I am staying in Korea?

Yes, you can. You have to use two expediting services to obtain both FBI background result and Apostille on the FBI result. 1. Print this fingerprint form, and visit a local police station ...